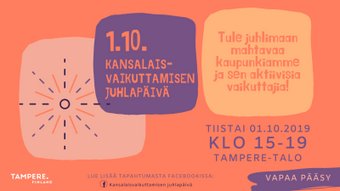 If you can make it, it's important to join this event and make your voice count by suggesting more sustainable practices for Tampere and discovering interesting initiatives.
It's happening on October 1st, from 3pm to 7pm in Tampere Talo (all information here).
According to the program page "nearly 60 Tampere-based associations showcase their volunteering and other meaningful activities. The program also features dance, music, magic and a "How I Change the World" discussion between 6 pm an 7 pm. Speakers: Tiina Elovaara (politician), Varpu Hintsanen (psychiatric nurse, mind trainer, personal trainer), Aija Karttunen (regional coordinator of the City of Tampere), Maria Mattila (musician, artist, citizen activist), Arja Ojala (politician, activist), Kirill Sultan and Mikko Kyrönviita (University researcher and citizen activist). The event is hosted by actor Sami Hintsanen."