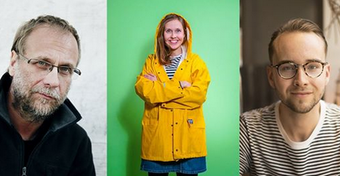 This Friday, a nice conference is organized with the writerOtso Sillanaukee who's promoting a frugal lifestyle without waste (and then no need to recycle anything!). He's sharing the mic with Maija Lumme, Corporate Responsibility Specialist at Pro Ethical Trade Finland (Eettisen kaupan puolesta ry) and Risto Isomäki, journalist, activist and writer.
This event is part of the European Waste Reduction week and is organized by Ekokumppanit, the learning center Tampereen seudun työväenopisto and Pirkanmaan Jätehuolto Oy.
Link to the FB event page here.
Here in Tampere, the recycling system is existing but can definitely be improved if more and more people ask for it. Regarding food, every morning Lidl is offering big boxes of fruits / veggies well mature for only 2€ and some are organic. Every day at Stockmann Herkku, you can find nice olives or cheese with -30% because they are labelled "best before today". The best pulla's in town baked yesterday are sold with -50% discount the day after at Amurin Leipomo. And I'm sure other examples can be found!
Compared to many other countries and even if we also have a poverty problem, the European countries are super wealthy. We are consuming a lot and we generate tons of waste. Thinking about our waste is one of the first step toward a sustainable lifestyle, that's for sure.